I don't know about you, but HBO's 'Euphoria' is one of the most exquisite television pieces of our time.
Unapologetically graphic when it comes to sex, drug abuse, and mental illness, 'Euphoria' commands attention with thoughtful writing, compelling performances, and a killer soundtrack. With only eight episodes in the first season, each one gets better than the last and challenges its audience to empathize with the struggle behind the surface-level projection we share with the world.
Last night concluded with 'And Salt The Earth Behind You' with much room for new trajectories in a second season. Here are some questions a new season can tackle. Not caught up on the first season? See why everyone's talking about it here.
**Warning: Spoilers Ahead**
Where did Jules go?
Oh, Rue (Zendaya). You finally got the girl just to lose her in one of the worst ways possible: your own idea. In an intimate moment after confronting Nate (Jacob Elordi), Rue suggests to Jules (Hunter Schafer) that they grab some things and run away together. They make it to the train station, but along the way, it becomes clearer and clearer that Rue isn't as committed as Jules. Then, in her most sober moment of the whole season, Rue chooses her family and herself in not getting on the train with Jules.
Heartbroken, Jules stays on the train, but where is she going? Will she take refuge back with Anna (Quintessa Swindell) or will she venture on her own for a while before returning to Highland? If Rue represents the brain of the show, Jules would certainly be its heart. Whether these two can survive apart remains to be seen.
      2. Is Fez alive?
After Nate's punk ass ratted Fez (Angus Cloud) out to the police and tried to get him arrested for illegal drug possession and distribution, we saw Fez try to make up for his dumped stash by stealing money from an unknown doctor in order to pay Mouse (Meeko). It looked like Fez was bracing himself to get shot, but honestly if anything happens to him…well…I don't know what I'll do, but show creator, Sam Levinson, won't be happy!
     3. Will Kat give up her pornographic persona for her new relationship?
Throughout the season, we've witnessed Kat (Barbie Ferreira) transform from a quiet, insecure young girl in her circle of friends to a dominant, bold young woman to her clients on a porn site via video chat.
While her experience has equated to both a source of empowerment and visible degradation, her retreat to the good-natured Ethan (Austin Abrams) seems to be a direct result of her struggle to balance the two identities. With someone who appreciates her in real life, can she hold on to the alter ego she's worked so hard to create? And how will Ethan react if she can't let it go?
    4. Will Nate seek help for his abusive behavior?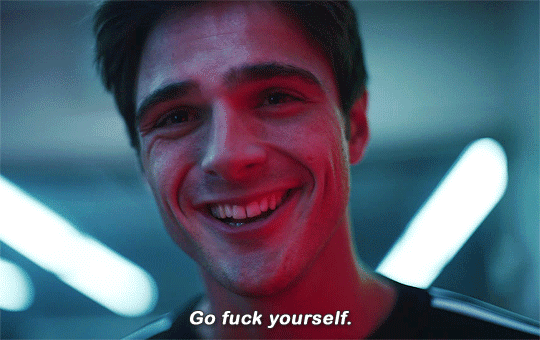 In a physical altercation, Nate's father (Eric Dane) incites an emotional breakdown in Nate, violently writhing on the floor of his bedroom in tears. Nate has been our main antagonist over the season, though we've witnessed his softer side through his treatment of Jules as "Tyler" on a hookup app and even through his interaction with his girlfriend, Maddy (Alexa Demie), despite their tumultuous (and physically abusive) relationship. It's clear his dad wants to help him through his rage to become a good man, but is it too late?
   5. Just what did that ending musical number mean for Rue's relapse?
In a surprising final musical sequence after Rue takes drugs, Zendaya gifts us with her vocal ability in the song, "All For Us" featuring Labrinth. Rue sings before falling off a mountain of bodies:
"I hope one of you come back,
to remind me who I was,
before I disappear,
Into that good night." 
"That good night" typically referring to death in reference to the Dylan Thomas poem, Do Not Go Gentle Into That Good Night. Are we to interpret that as another overdose? I just want this girl to be OK, dammit!
**Bonus Question: Can we give Zendaya her damn Emmy already?! Because she absolutely kills this role!
What questions do you have after the season finale? Will you be tuning in if it gets renewed? Let us know!
Keila J. Brown
Writer, Actor, Sci-fi & Superhero Blerd trying to escape the Matrix!