Unless you've been living under vibranium—er, a rock—you should be well aware of the popularity Africa's garnered amongst the masses. With the recent Broadway tour of The Lion King (hopefully you got a chance to see it!), and the blockbuster release of Black Panther (which we still cannot stop talking about) African culture, traditions, and ethnicity have been fresh on the forefront of discussion and everyone's minds.
In the South, another glimpse of African culture made its presence recently known—though it might not have been on everybody's radar. That glimpse was the beautiful art exhibit: Making Africa: A Continent of Contemporary Design.  The High Museum in Atlanta, Georgia was the lucky host of this hidden African gem. And from the moment it arrived in town, it was clear that The High Museum's art curator did not disappoint with the exhibit's stunning delivery.
As soon as you walk in to the exhibit, you are met with a stunning compilation of visuals, ranging from the enormous mural introducing you to the exhibit, to the media screens, art pieces, and speakers.
The first visual that takes you by surprise is the one that helps you see. It's a piece named C-Stunners. Don't worry, I'll explain: This piece features several eyeglasses that are comprised of materials like tin-cans, spoons, wires, and various other metals. Kenyan artist Cyrus Kabiru was responsible for this portion of the exhibit, which I believe exuded the heart of what Making Africa is all about: taking objects that are easily disregarded and seen as scraps, left-overs, and non-usable, and remaking it into something that is valuable, worthy, and awe-inspiring.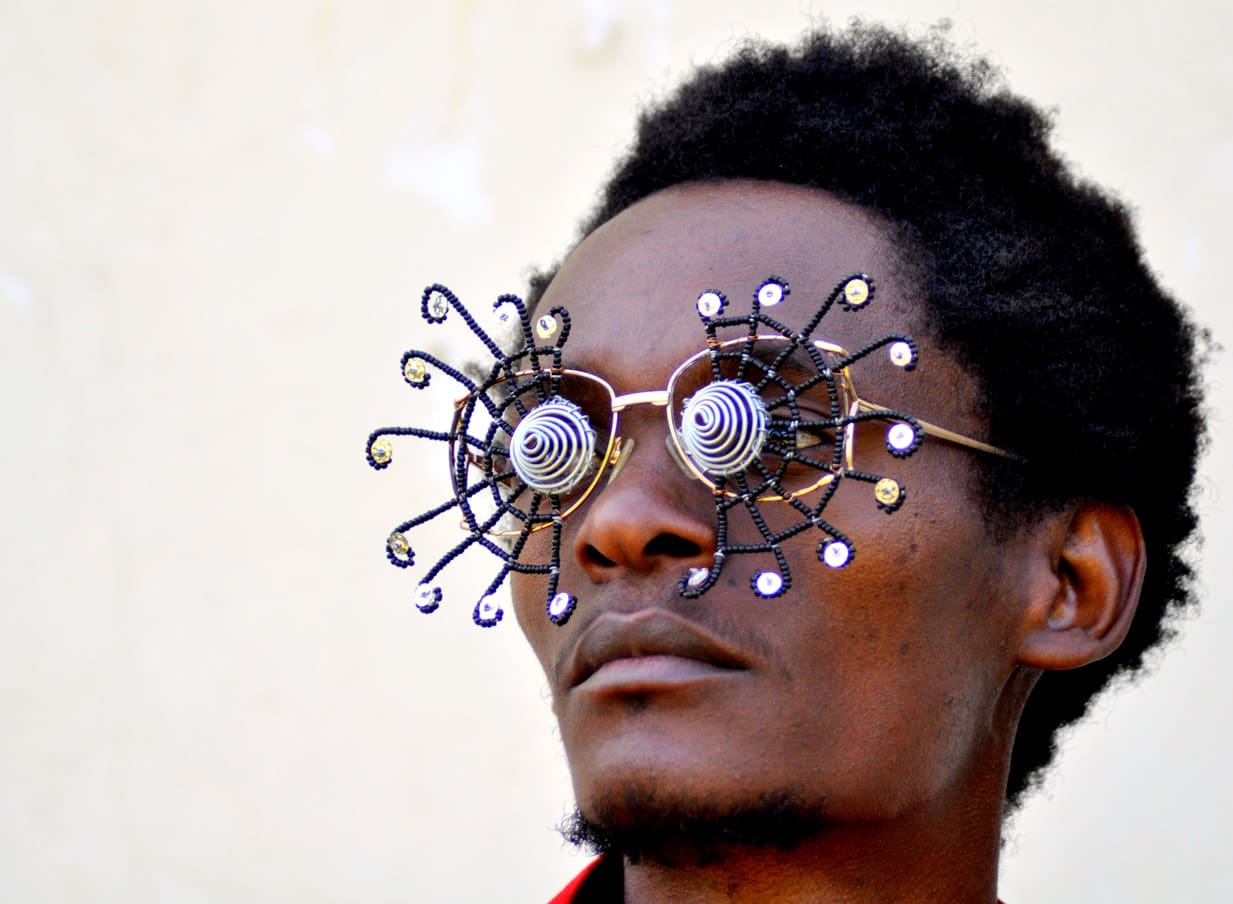 Following the C-Stunners are pieces named Alkebu – Lan 1260 Alt made by Nikolaj Cyon. Alkebu is a map of Africa on top of the world, and shows how many other countries can fit within the span of the entire African continent. This is another significant point because it embodies the spirit of Africa being the birthplace of the world essential, the dawn of human civilization.
As you continue your way through this art journey crafted by different thinkers, entrepreneurs, and designers, you turn the corner and come face to face with my favorite piece—and what I consider the center of the entire museum. Now this piece is also probably one of the simplest—nothing flashy, flamboyant, or particularly colorful at all. But with its minimal design, it is deeply, deeply powerful.
In front of you are two wheels: one inexplicably and almost comically large, and another besides it that is roughly half of its size. These wheels were bestowed upon us by three Kenyan artists named Tahir Carl Karmali, Dennis Muraguri, and Tonney Mugo (three modern wise men – can ya' dig it?). As in C-Stunner's piece, these wheels also embody the same materials: corroded metals, bottle caps, CDs, and smaller cog wheels. The large wheel is symbolic of Kenya, and the smaller one represents the economy, people, and hard work that the larger world eyes cannot see (Worthy, Burnaway.)  These wheels were not mobile, and they did not turn or spin. But I would assume that if they did, the smaller wheel would definitely turn the larger one.
The naming of these two pieces are Jua Kali City. Jua Kali a term commonly referring to lesser than or ineffective, but it has since been turned amongst some Kenyans to mean resilience, being efficient and getting great things accomplished in order to survive and thrive.
I believe this message exactly parallels in Jua Kali City, and Africa as a nation. As it has been stated consistently across multiple platforms, Africa is not a place to be mistaken only for being impoverished, ravaged with war, or with its people living in grass huts or rubble. In some regards, this is an unfortunate reality that much of Africa faces—but in the same way America is not defined by our impoverished, racial, or moral shortcomings, Africa should not be defined by theirs. As the curator of this exhibit says, "Making Africa focuses on a generation of entrepreneurs, thinkers, and designers from and within Africa who address a global audience and provide the world with a new vantage point on their continent" (High Museum).
Last but not least are two pieces that stuck out in my memory, that I believe are very important to share: The Prophecy by artist Fabrice Monteiro, and  The Gun Throne by Mozambique artist Goncalo Mabunda.
The Gun Throne by Mabunda is a part of a larger series in which he uses pieces from weapons meant to cause destruction—and which have indeed caused destruction and war in his homeland—and turn them into art that is regal and beautiful.
People associate Africa with trauma—and the continent has indeed known its fair share—so to take apart these weapons used for death, and repurpose them into something positive, dynamic, and regal is not only a daunting task, but something that can be perceived negatively. Some may look at the Gun Throne as a glorifying of automatic rifles, machine guns, and others of the like. But I would highly disagree, and say that it is instead a way to transform a practice that is ugly and outdated, and violent, and create something powerful and new.
#AfricaForever
Asia Minor
Hi! Asia Minor here - I enjoy anything history, fantasy, and sci fi...its even better when its all combined. I am working on acquiring beautiful huskies for my pets, constantly watching movies (and plan on making them), and reading/writing. My musical choices limit to Disney, Lin-Manuel Miranda, and Lamar - enough said.