Who doesn't like brunch? Its definitely not reserved for your typical "It girls" and fashionistas. Even nerds love it. Combine brunch and nerds and well, you have the first ever "Just A Brunch Of Nerds," hosted at the Bier Baron Tavern by cosplayer and burlesque performer, Maki Roll.
Quirktastic got the chance to speak with Maki on how she got her start and what it takes to pull off a successful show!
Q: Tell us about yourself. Who is Maki Roll and how did you get into burlesque and cosplay?
MR: I started cosplaying in 2007 when I first discovered conventions through my high school anime club.  My mom helped me make my first costume, and bought me my first sewing machine soon after.  I went to conventions casually as a shy timid cosplayer for a very long time.  As cosplay started shifting toward a more mainstream profitable market, I began taking "pro" cosplay photos and posting them in an attempt to build my presence up.  I was approached to be a "stage kitten" (the person who makes sure the stage is ready from one act to the next) for a show and knowing nothing about the world of burlesque, I eagerly accepted.  From there I began taking more gigs as a kitten, and soon delved into performing.  I gravitated toward Nerdlesque (nerdy/pop culture themed burlesque) because as a cosplayer I enjoyed the idea of creating this story around undressing your favorite fictional (or non-fictional) characters.
I was inspired by
Cherie Sweetbottom
(founder of the first Nerdlesque troupe in DC, 
Evil League of Ecdysiasts
) to create and curate my own shows – which lead to so many wonderful opportunities.  Burlesque and cosplay have allowed me to create in a way that feels real to me, and on my own terms.  Both have helped me reach a level of confidence and acceptance within myself that now pushes me forward in all aspects of my life.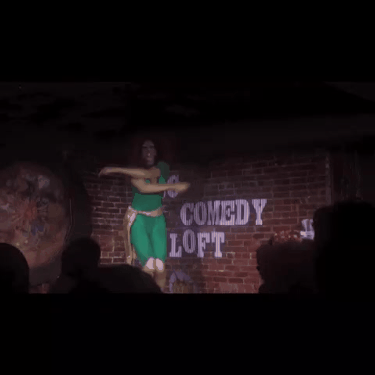 Q:  What events have you hosted in the past and how did "Just A Brunch of Nerds" come to fruition? What made you take this route as opposed to your usual burlesque performances?
MR: It took a while before I truly felt comfortable on the mic in front of people.  I always thought I sounded goofy and no one would want to listen to me talk. That's why I'd usually hire people to host my shows.  Whenever I hosted After-Parties with other people, usually the other guest would be on the mic and I was free to chill meekly in the back.
The first year I was a guest at Awesome Con 2016, I found out that I was hosting their Backlot Cosplay Contest.  I didn't think much of it because I assumed I was hosting with other people and therefore only had a couple things to say.  It wasn't until I got my itinerary and notes that I realized I'd be hosting solo.  I tried to prepare material, but ultimately ended up winging it on stage.  I was so nervous, but afterwards I had people coming up to me and telling me they loved my hosting style.  I went on to be invited back for two more years.  With that around my belt I decided that I wanted to start hosting my own shows – because I'm the one who cares the most about my art.  I am the only one who can carry my message how I want it.  I wanted to take the leap and truly connect to my audience.  Although it is nerve-wracking, it's a different kind of feeling than performing burlesque.  Your movements aren't the central focus of the space you occupy on stage, and you have to constantly keep the audience engaged. It's wonderful to feel that is something I can do just by being myself.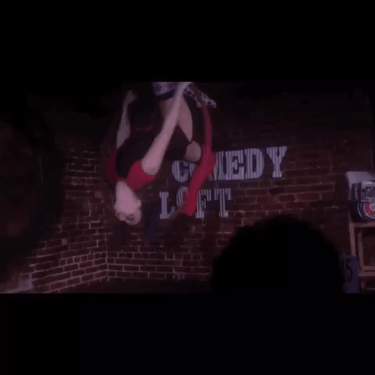 Q: What was your favorite part about this particular event?
MR: My favorite part of this event was probably all of the familiar faces in the crowd.  Not only wonderful friends, but people who have attended prior shows, and those who follow my cosplay and modeling as well.  It's an extremely humbling experience to have that kind of support, and to know that there are people into what I'm doing.  This also happened to be the same weekend as the Unite the Right rally (aka the Wack Ass Wanda party) so there was a lot of tension in the city.  There were people who didn't want to come out, or wanted to be out counter protesting – all of which are very valid things to want to do. Pairing that with the fact that there are so many established brunch shows in city already – it made me feel good to see people out having a good time with us.  Creating community in whatever capacity, is something I strive for.  I am grateful for the community that has embraced me and allowed me to embrace them back.
Q: What's the most challenging thing you've had to overcome as a performer, host/event planner and how did you get past it?
MR: The most challenging thing for me as a creative is getting out of my head, and not comparing myself to others.  I am my own worst critic, so with every completed project, no matter how successful, I analyze and break it apart to see what could be done better.  I've learned that while it's okay to be critical of myself, I can also be proud of myself as well.  I've learned to enjoy my victories by being less competitive with others. I focus on my personal success and growth and it makes me so much happier.
Q: Can we look forward to more events like this? What are you thinking of in the future?
MR: Yes! The next "Just a Brunch of Nerds" (Just a Brunch of Nerds: Catchin' Villains)  will be
Sunday, October 12

at Bier Baron Tavern in Washington DC.
  Since it's in October, I wanted to bring back my villain themed show (previously called "It Puts the Pasties on the Skin" because…yeah) because most of my favorite villains are also Halloween legends.  It's going to be a fun show, with more exciting performances and a few special surprises.
You can get more info on the next Brunch Of Nerds and other events 

here

. Be sure to follow Maki Roll on

Instagram

and

Twitter

!