[video src="https://giphy.com/gifs/beyonce-eEMXoZ2dLuGZO"][video src="https://giphy.com/gifs/beyonce-lemonade-26AHNQSHur4mSuoH6"][video src="https://giphy.com/gifs/beyonce-lemonade-l3V0HfHMGsVUt2tDq"]
As I was contemplating certain aspects of my life, I was trying not my best not to overthink about about negatives like the stress of adult responsibilities.
So as I was scrolling through YouTube, Beyoncé's song, "Me, Myself, and I" appeared on my suggested list. So, I'm sitting here thinking, "It's Beyonce. She has a lot of good songs, so why not?"
Within the first four seconds of the song, I literally felt it on a spiritual level. I began to close my eyes, only to feel every single word of the song while having flashbacks of being disrespected by ex-friends, ex-boyfriend, and others. However, after listening to the full song itself, I realized that there's so many life lessons from this one song, there's one sole life lesson that is very important.
Never allow yourself to put up with anything from anyone in your life because you deserve better than being treated as less than.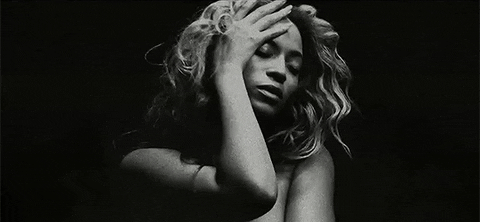 The idea sounds easier said than done for some, right? However, the concept can be difficult to do sometimes.
At times, we allow toxic and negative people in our space and grow attached to having them around. Then, when they're exposed, we hold onto the few good memories and continually make excuses for them. When you bond with someone, you know how you want or wish to be treated by them. It is to be treated with legitimate respect.
I, myself, had to learn this the hard way in high school through friendships, relationships, and so forth. Back then, I let people walk over me due to the fear of being alone. So, I voluntarily silenced myself for the sake not wanting to feel unloved. Plus, for some odd reason, society associates relationships with happiness rather than someone's state of mind. That mindset within itself is toxic and very much negative. Overtime, I gained confidence through stating my opinions, feelings, etc., which indeed left me alone.
But by being myself, it allowed me to cut off negativity and surround myself with some of the best people that I could ever know. The most important thing is how you treat yourself and you allow others to treat you as well.
You do not deserve disrespect. I honestly wish that you didn't have to go through the painful occurrences that you've dealt with. You deserve the sun, the moon, the stars, prosperous friendships, positive relationships, etc. Don't allow a dusty, toxic individual to disrespect your being. Do not allow negative circumstances to steal your glow. Your glow will always glow, even in the worst of days.
If life has knocked you down, it's fine for you to sit down and process everything. Even if you are in pain, it is okay to relax and get yourself together properly. But remember to dust yourself off, walk into the sun, and set your personal boundaries. Why boundaries? Because boundaries set the difference between people that will respect your space, body, mind, solitude, & spirit and those that will not.
In Beyonce's words: "I know I will never disappoint myself".
CocoMocha
CocoMocha is a gamer, blogger, content creator, and cosplayer. In the mean time, she consistently plots her next idea. Will be glorious? Will it not? Find out of the next episode of Stressball Z.